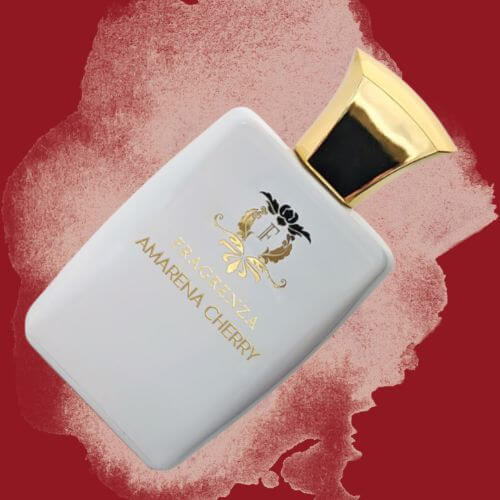 Amarena Cherry
Obsessed with cherry? If you want to really amp up the cherry scent, this Tom Ford Lost Cherry dupe will give Lost Cherry a run for its money. Black cherry, cherry syrup, and cherry liqueur all mingle together for an indulgent cherry overdose that's complemented by notes of almond, tonka bean, Turkish rose, and jasmine sambac.
Sweets And Gourmand Smells
Collapsible content
Description

Caramel is a fragrance that lovers pursue with great zeal.

It's impossible to resist its sensuous and delicious, creamy, buttery sensation that floats somewhere between sweets and condensed milk. The salted butterscotch, dulce de leche, and toffee notes in the fragrances give a depth of taste that makes them appealing, in addition to the burned sugar and vanilla and maybe cotton candy undertones.
Victoria's Secret offers Caramel Vanilla in the Travel Essences collection. Jessica Simpson's Fancy is a cult mass-market sensation. Others were eager to capitalize on this desire for a fast, non-calorific fix. Celebrities, such as Naomi Campell's eponymous fragrance, have not been spared. Demeter, on the other hand, offers an essential, simple caramel aroma in their fragrance range. Fresh's Tobacco Caramel is an adult mix that resembles the naturally caramelized tones of pipe tobacco, comparable to Tom Ford's Private Blend line's Tobacco Vanille. Mr. Micallef's Vanille Aoud is another specialized form of this more intricate tapestry of toffee notes oozing from the spoon. Ligne de St. Barth takes a more unusual approach, offering Fleur de Canne Sucre, which tastes like sugar cane. Another cult favorite is Lea by St. Barth, which has an almond undertone that adds gastronomic delight. Perhaps the addition of pure caramel and swirling sugar can be beneficial.
The fundamental trick of the ethyl maltol molecule smelling of cotton candy creates the illusion of a vanilla ice cream cone. Of course, ethyl maltol has become a household word since Angel's debut and persistent replication by Thierry Mugler in 1992. With a throwback to youth, the pioneer of caramel and patchouli Orientals dazzles you with its tremendous joy and soft-spun sugar aroma. Chopard's Wish is close behind. Ethyl maltol is the ethyl analog of natural maltol. However, the molecule is manufactured in the laboratory and is not present in nature. Therefore, the enhanced effect implies it is almost 500% more effective than plain maltol.
Thierry Mugler has pushed things to the logical conclusion with their Angel Taste of Fragrance, which has a toffee accord against a background of deep amber. Cyclotene ushers us into a more complicated notes area. Although solid fenugreek extract is utilized to create a maple syrup note, it was the only extract with caramel-maple overtones. Natural maple syrups were further flavored with cyclotene until these other components were discovered, creating a live link of the molecule's smell with our sense of the aroma of maple syrup.

Is it the maple that smells like cyclotene or the cyclotene that smells like maple?

It is naturally found in fenugreek seeds, but it is also widely used in roasted sweet goods such as coffee desserts, licorice sweets, and toasted almond desserts. It is also present in cocoa and coffee, in addition to fenugreek seeds. Lolita Lempicka's rendition of the gourmet patchouli, Lolita Lempicka Eau de Parfum, incorporates a touch of licorice, which is sometimes essential to producing a satisfying sweet caramel. Candy by Prada is also rich in caramelized tones, which are highlighted by the resinous weight of benzoin, which pairs very well with the vanilla sweetness. A compound 1000 times more potent than Cyclotene, Sotolon is the critical component in roasted fenugreek seed and brown sugar, a combination as delectable as any, thus caramel furanone. It takes on curry-like tones when concentrated. At the same time, in lesser quantities, it can remain in the caramelized sugar on the pan spectrum of smells. However, Sotolon includes notes that complement alcoholic tones, such as sake, rice wine, and botrytis wine. Do you recall Ginestet's Botrytis niche smell, which was meant to replicate the noble rot on Sauternes grapes? It features Sotolon, which combines gingerbread, candied fruit, and honey aroma into a harmonious combination. Clearly, at a time when we are as concerned with our waistlines as we are with our purchasing habits, investing in a sweet caramel fragrance responds to both a growing need for tasty perfumes, pleasure without calories, and a reversion to a time when everything could be satisfied with a piece of delicious toffee.
What Fragrance Has an Orange Blossom Scent?

The bitter orange tree's exquisite white blossoms, which have a beautiful orange fragrance, are used in the production of perfume ingredients such as neroli and orange blossom. Orange blossom, with...

The bitter orange tree's exquisite white blossoms, which have a beautiful orange fragrance, are used in the production of perfume ingredients such as neroli and orange blossom. Orange blossom, with...