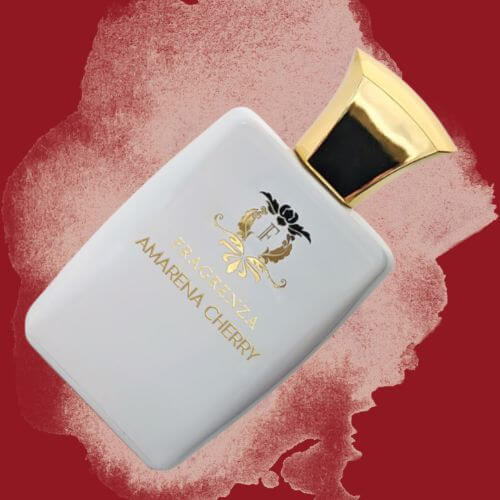 Amarena Cherry
Obsessed with cherry? If you want to really amp up the cherry scent, this Tom Ford Lost Cherry dupe will give Lost Cherry a run for its money. Black cherry, cherry syrup, and cherry liqueur all mingle together for an indulgent cherry overdose that's complemented by notes of almond, tonka bean, Turkish rose, and jasmine sambac.
Collapsible content
Description

Not so long ago in the Moscow Botanical Garden there was a peony exhibition with dozens of cultivars, including garden hybrids and itoh hybrids. I visited this exhibition and today I want to share with you my photos of these beautiful flowers and talk a little about the history of the cultivation and development of peonies and their aromas. I will also mention the difference in smell from one cultivar to another. Peony lat. Paenia - is a genus of herbaceous and deciduous perennial shrubs. The peony is the only genus of the Paeoniaceae family. The most typical species is Paeonia officinalis L . . Cultivated, these flowers are interesting first of all for their decorative properties. According to some Chinese sources from the Qin and Han times, interest in peonies as decorative plants has been documented since 200 BC. Cultivar of the gold mine, China, around 1100 The genus Paeonia has more than 30 species. The most popular and widespread in cultivation is Paeonia lactiflora, also known as Paeonia albiflora, which was the first white peony introduced to Europe. First introduced to England in the mid-1700s, this species has become the ancestor of most garden peonies. Cultivar Venus, Great Britain, 1888 According to the American Peony Society, 6455 cultivars of peony are registered today. Paeonia lactiflora, unlike Paeonia officinalis, is more persistent to climate change and disease; it became the ancestor of a large number of cultivars which were first mainly known in France. Cultivar Duchesse de Nemours, France, 1856 Cultivar Marie Lemoine, France, 1869 Cultivar La Perle, France, 1886 Cultivar Albert Crousse, France, 1893 Cultivar Sarah Bernhardt, France, 1906 Breeders in the USA peonies became known there in 1771 crossing of Paeonia lactiflora with wild species in order to obtain new cultivars. Considering that the flower became more and more popular, the American Peony Society was founded in 1903. Cultivar Myrtle Gentry, USA, 1925 Cultivar Krinkled White, USA, 1928 Due to the structure of a flower, peonies are divided into flat / single, Japanese type, anemone type, semi-double and double polypetal which in turn can be considering the shape of a flower crown type, semi-spherical, spherical, semi-pink and pink type. Single / flat flowers are all wild peonies and their hybrids. The flower consists of five or more large zoned petals with numerous stamens in the center. Japanese-type flowers are characterized by one or two rows of petals and numerous pollen-free stamens. Parastemons staminodiums are more often brighter in color than petals. Flowers of the anemone type are often compared to the Japanese group. Their flowers have one or two rows of petals, many stamens without pollen, but colored the same shade as the petals. Cultivar Ursa Major, USA, 2000 Cultivar Gold Standard, USA, 1934 Cultivar Nellie Saylor, USA, 1967 Cultivar Yellow Charm, USA Cultivar Neon, USA, 1941 Cultivar White Sands, USA, 1968 Cultivar Bouquet Perfect, USA, 1987 Semi-double peonies have flowers with many petals in several rows; the stamens are located in a ring, rarely mingling with the petals, and the stamens are grouped together in the center of a flower. Cultivar Green Halo, USA, 1999 Cultivar Coral Charm, USA, 1964 Double or polypetal flowers with many petals are the most aromatic having this very classic scent that we usually call peony: light and transparent, floral , lightly powdery and most recognizable as a typical peony. Cultuvar Big Ben, USA, 1943 Cultivar Chiffon Parfait, USA, 1981 Cultivar Chinook, USA, 1981 Cultivar Fringed Ivory, USA, 1989 Cultivar Jacorma, Netherlands, 1969 Cultivar Jadwiga, Romania Cultivar Joker, USA, 2004 Cultivar Junior Miss, USA , 1989 Cultivar Moon River, USA Cultivar Victorian Blush, USA, 1999 Cultivar Pink Parfait, USA, 1975 Cultivar Princess Margareth, USA, 1960 Cultivar Diana Parks, USA, 1942 The most aromatic peonies I sniffed at the show were : rather simple Festiva Powder Puff, which had the brightest among the classic peony scents - subtle and powdery; Steve's Choice - a flowery scent with hints of lemonade and caramel; Venus - a thick and rich flowery scent. A rather interesting scent was the cultivar Myrtle Gentry, its scent included the fragrant notes of myrtle. Cultivar Festiva Powder Puff, USA, 1986 Cultuvar Steve's Choice, USA In addition to the usual flowers of about 10 centimeters in diameter, there were hybrids with flowers over 20 centimeters. Carol cultivar, USA, 1955 There is a distinct group called itoh-hybrids intersectional hybrids with very large flowers, original shape and color. The history of itoh hybrids began with a battle between breeders trying to develop a cultivar with pure yellow petals. The result was obtained when the tree peonies were taken into consideration for the crossing. In 1958, resulting from the cross between herbaceous and shrub peonies, the Japanese breeder Toichi Itoh created the first herbaceous plants with true yellow flowers. In 1967 Louis Smirnov, owner of a peony breeding nursery in New York, bought the rights to these hybrids and later in 1974 registered with the American Peony Society in cooperation with Itoh four cultivars: Yellow Crown, Yellow Emperor, Yellow Dream and Yellow Paradise. The selection of intersectional hybrids that continued in the United States led to their classification in a distinct group Itoh-Hybrids or Intersectional Hybrids. The most notable itoh hybrids are considered Garden Treasure and Bartzella, which is until today the only double yellow peony in existence. Now the list of itoh hybrids includes cultivars not only with yellow petals. There are those with pink and even burgundy red flowers eg Old Rose Dandy cultivar with flat beige-yellow pink flowers. Cultivar Garden Treasure, United States, 1984 Cultivar Bartzella, United States, 1986 Culture Old Rose Dandy, United States, 1993 Culture Anderson Kaleidoscope, United States, 2006 Peonies are very popular garden flowers. Different cultivars bloom at different times from May to August, providing the opportunity to enjoy the beauty and wonderful, bright but subtle and sophisticated scent of these flowers all summer long. Cultivar Old Faithful, United States, 1964 Cultivar Pillow Talk, United States, 1973 Cultivar White Frost, United States, 1991 Cultivar Ivory Victory, United States, 1988 The volatile components that define the scent of flowering peony, strange as it may seem, are not examined in depth and this theme still awaits a careful researcher. I have to admit that the most important book on peonies only appeared last year. Earlier in the study of peony, components in fairly large quantities such as phenylethyl alcohol, citronellol, geraniol, linalool, nerol called rose alcohols and their esters were found. Some ketones and esters include green apple scent methylheptenon there are plenty of them in verbena and lemongrass essential oils and fruity methyl cinnamate-balm. Important components of the peony scent are lily-of-the-valley farnesol, flower-green scent nerolidol, bitter almond scent benzaldehyde, the smoky and vanilla scent of guaiacol, and dymethyl hydrohinon which smells like hay and fennel. Terpenes and their oxygen-containing derivatives make a substantial contribution to the aroma of peony.
What Fragrance Has an Orange Blossom Scent?

The bitter orange tree's exquisite white blossoms, which have a beautiful orange fragrance, are used in the production of perfume ingredients such as neroli and orange blossom. Orange blossom, with...

The bitter orange tree's exquisite white blossoms, which have a beautiful orange fragrance, are used in the production of perfume ingredients such as neroli and orange blossom. Orange blossom, with...