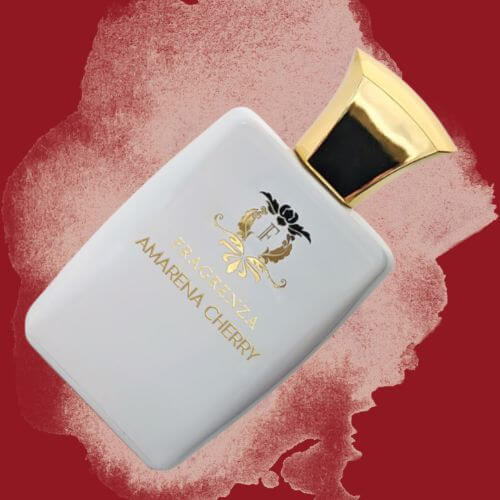 Amarena Cherry
Obsessed with cherry? If you want to really amp up the cherry scent, this Tom Ford Lost Cherry dupe will give Lost Cherry a run for its money. Black cherry, cherry syrup, and cherry liqueur all mingle together for an indulgent cherry overdose that's complemented by notes of almond, tonka bean, Turkish rose, and jasmine sambac.
Freesia refracta Iridaceae
Collapsible content
Description

In perfumery, freesia has the reputation of being a bit of a dark horse: appeared in Europe in 1766, it graced the gardens of French and Italian courts and has become the symbol of youth and tenderness. It was also traditionally presented for the 7th wedding anniversary, but was not included for the first time in aromatic compositions until 1985, when Bernard Chant of IFF created Antonia's Flowers, the first fragrance in the collection of Antonia Bellanca-Mahoney, a florist from East Hampton, New York. The creation of a freesia accord in this fragrance, using Headspace technology, allowed its author to approach the electric purity of a freshly cut flower. The aim of Antonia's idea was to create not just another feminine scent, but a composition that could remind her of her own studio and favorite flowers. After the success of Antonia's Flowers, freesia started to appear in the perfumes of other perfume houses, we will talk about that later. Currently, we are interested in the following question: what made perfumers around the world wait more than 200 years before using this flower in their compositions? Antonia's flowers Fleurs d'Antonia is a tender floral fragrance with notes of freesia mixed with jasmine, magnolia and lily. Subtle fruity notes encircle these floral accords. It is available in 50ml and 100ml EDT, 60ml EDP, purse scent, lotion and soap. The nose behind this fragrance is Bernard Chant. The most complicated part of the freesia note game is the absence of the main odorant, the substance that identifies the source of the scent. For example, beta-Damascenone in roses or benzyl acetate in jasmine play the role of such a substance due to their intense scent. Freesia is generally associated with linalool, a terpenoid known to be fresh in nature, which could be associated with freesia, cilantro, lily of the valley and lavender. Why specifically linalool? Well, the smell of different varieties of freesia consists of 30-90 percent of this substance there are, by the way, 16 varieties of this flower. The correlation of other components usually limonene, terpineol, sabinene, myrcene also varies significantly from variety to variety, essentially influencing the overall scent. To answer a fairly logical question about the possibility of extraction, I contacted Matvei Judov, an aromatic chemistry expert from Moscow and Victoria Minya, a perfumer. According to them, it is possible to extract certain aromatic compounds from freesia, but it does not make sense on an industrial scale. The reason is that in this case there is not so much essential oil produced and it is difficult to match its scent with that of natural flowers, even cut ones. This is why natural perfumers still do not use freesia in their compositions, and artists who work with synthetic perfume materials have to recreate this accord over and over again. Another way to solve this problem is to use flavorings: for example, IFF developed Freesia Fleuriff. Also, you can find some mentions of Miraldiacetate, also known as Freesia Acetate, on the Internet. Among the most popular and cited freesia scents, we find the joyful and fresh fragrances of Ofresia by Diptyque, powdery Freesia by Fragonard, dandyish Reflection for Men by Amouage, bold Musk and Freesia by E. Coudray . . . I feel a suddenly licentious and garish freesia in Rush by Gucci; he bathes in the sun's rays and cool neroli water in Oriflame's Together for Her; it swirls in a solid powdery mist in Cacharel's Noa. Also, the Jersey from the Exclusives from Chanel can be recalled, but here the freesia part is not that big, just somehow smoothing out the already soft tone. Yellow Freesia refracta is considered the most popular kind of this flower - its sweet, light, peppery scent seems to be rather vernal. Like lily of the valley and mimosa, it soaks up the air of March, makes it unforgettable and exhilarating, drives you crazy, just as it is, as we like it.
What Fragrance Has an Orange Blossom Scent?

The bitter orange tree's exquisite white blossoms, which have a beautiful orange fragrance, are used in the production of perfume ingredients such as neroli and orange blossom. Orange blossom, with...

The bitter orange tree's exquisite white blossoms, which have a beautiful orange fragrance, are used in the production of perfume ingredients such as neroli and orange blossom. Orange blossom, with...