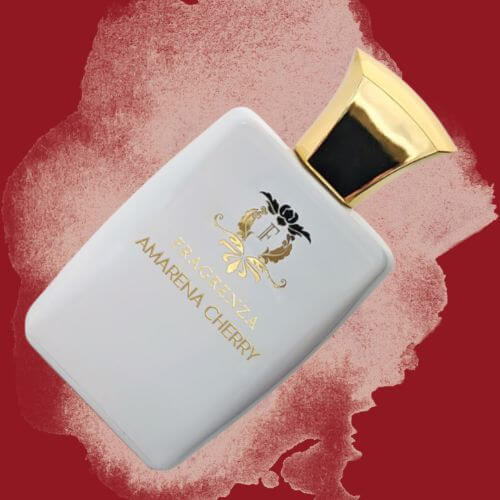 Amarena Cherry
Obsessed with cherry? If you want to really amp up the cherry scent, this Tom Ford Lost Cherry dupe will give Lost Cherry a run for its money. Black cherry, cherry syrup, and cherry liqueur all mingle together for an indulgent cherry overdose that's complemented by notes of almond, tonka bean, Turkish rose, and jasmine sambac.
Fruits, Vegetables And Nuts
Prunus amygdalis var. amara Rosaceae
Collapsible content
Description

The term 'almond' denotes both the tree and its seeds. Indigenous to the Middle East and South Asia, the almond tree produces seeds nestled within an outer hull and a hard shell. These seeds are prized for their distinctive flavor and high nutritional content.

Utilizing Bitter Almond Oil in Perfumery

Oleum amygdalae, the fixed oil, is a glyceryl oleate characterized by a faint aroma and a nutty flavor, derived from either sweet or bitter almonds. Although virtually insoluble in alcohol, it dissolves readily in chloroform or ether. Almond oil is obtained from dried almond kernels. Bitter almond oil, with its key component benzaldehyde, is employed as a flavoring in cuisine and as a scent in perfumery. In contrast, sweet almond oil serves as a carrier oil in aromatherapy and cosmetics.

Thanks to various scientific breakthroughs in the realm of synthetic molecules, numerous substances have been found to replicate the almond note exquisitely, primarily in floral fragrances and other fragrant concoctions.

Recreating the Almond Note in Perfumery

Unfortunately, the almond note can't be directly extracted from the finely ground nuts used in pastries. Consequently, to replicate the delicate sweet and powdery flavor of this fruit, alternative strategies have been employed.

One method involves distilling apricot kernels to produce benzaldehyde, a natural almond note. This approach allows for the utilization of all apricot components, beyond its flesh, in the apricotine manufacturing process. The resulting product is the renowned natural benzaldehyde.

Scientific discoveries in 1869 brought forth heliotropin, derived from the powdered vanilla notes of the beautiful heliotrope. Along with anisic aldehyde, discovered around the same time, these substances have been used to create the sweet, almondy notes of Guerlain's "Blue Hour" and "Après l'ondée" fragrances. Amandolene, created by Firmenich, also reproduces delicate, floral almond notes using a similar principle.

Lastly, the potent coumarin active components found in the renowned tonka bean can be harnessed to render an almond note in a fragrance that calls for this lovely nut's essence.

The Almond Note in Our Floral and Oriental Fragrances

Although a natural almond note isn't directly obtained from the almond tree, it can be synthesized in a variety of ways, depending on the desired facet. Floral fragrances are a particular favorite for the almond note, where its delicately powdery and gourmand notes intermingle with bountiful flowers, captivating our senses!

The almond note can appear under various names and forms in fragrances. However, certain floral fragrances explicitly highlight it. "Fleur Défendu" by Lolita Lempicka blends almond with white musks and cherry in the base notes, while "Eau de Fleur de Plunier" by Kenzo combines almond and powdery notes in a fragrant base of floral and fruity elements. "Roberto Cavalli Essenza" by Roberto Cavalli merges almond with unique animal base notes. "One love" by Jean-Louis Scherrer prominently features it as a top note, accompanied by bergamot and galbanum.

Moreover, the almond note is also highly favored in oriental perfumes. "Ambrosine"and "Flower by Kenzo Le Parfum" by Kenzo use almond as a middle note along with Bulgarian roses. Not to mention the enticing mixture of almond and fruits that generates the renowned cherry aromas of "La Petite Robe Noire."

Perfumes incorporating the almond note are plentiful and often rather innovative in their compositions. Though primarily found in feminine fragrances, there are noteworthy masculine exceptions like "L'Homme Idéal" by Guerlain and, surprisingly, the woody "Cargo de Nuit" by Prada, both of which carry hints of almond.
What Fragrance Has an Orange Blossom Scent?

The bitter orange tree's exquisite white blossoms, which have a beautiful orange fragrance, are used in the production of perfume ingredients such as neroli and orange blossom. Orange blossom, with...

The bitter orange tree's exquisite white blossoms, which have a beautiful orange fragrance, are used in the production of perfume ingredients such as neroli and orange blossom. Orange blossom, with...