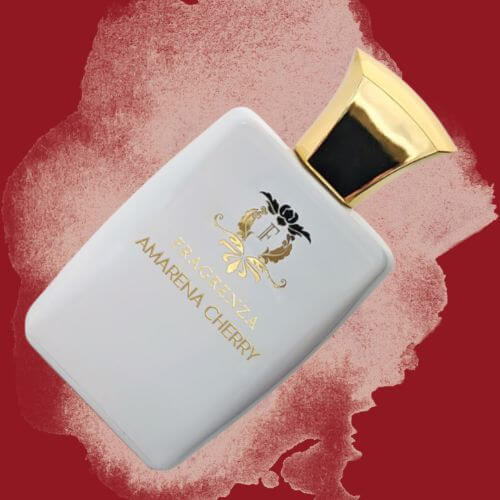 Amarena Cherry
Obsessed with cherry? If you want to really amp up the cherry scent, this Tom Ford Lost Cherry dupe will give Lost Cherry a run for its money. Black cherry, cherry syrup, and cherry liqueur all mingle together for an indulgent cherry overdose that's complemented by notes of almond, tonka bean, Turkish rose, and jasmine sambac.
Collapsible content
Description

Every perfumer knows the melodic name of ylang-ylang and could recognize and describe its scent often encountered in perfumery, something like this: heady sweet, bright yellow, dense and feminine, floral with fruity and woody facets. It is more difficult to describe the smell of the real plant in words. I havent smelled the real one yet, and anyone who has tried to describe it to me through smells of fruits, candies and flowers that I know still hasnt reached their goal. I have no idea what the smell is and can only guess. Of course, I have my guiding stars for ylang perfume in perfumery. I love Givenchys Harvest Amarige series and consider ylang-ylang the most appropriate ornament. In my quest for the most realistic ylang to expand my knowledge of what should be the real deal, I found it in Perris Monte Carlo Ylang Ylang Nosy Be Extract. The same scent in EDP isnt bad, but the extracted version is breathtakingly beautiful. While reading Guerlains ylang plantations, I imagined something very exotic and I dared not dream of growing ylang in my garden or in a pot. In the meantime, finding and planting rare plants, and chatting with people who share my love of gardening, I got closer to the idea of having my own ylang to finally smell its bloom. It was not easy to find. According to Google, the only nursery that sells ylang in my area reported that it was too expensive to grow such a fast growing tree with such low demand. My ylang and its aromatic relatives I found at a tropical Florida nursery, toptropicals. com. I am grateful to his team for making my dream come true and for the information and advice on growing ylang, as well as for the images I use here in my article. All are taken in nursery. Toptropicals. com ships plants and seeds to almost any destination in the world, in any quantity. Ylang fruits. They are inedible, very tart, reminiscent of juniper berries, but not poisonous. The ylang flowers appear green and inconspicuous among the leaves until they mature and turn yellow. The ylang-ylang or Cananga odorata reaches great heights of up to 100 feet in its native Southeast Asia. Planted in a warm climate, this beautiful tree with drooping branches and long leaves grows fast and flowers within two to three years after sowing a seed. Its branches are completely covered with clusters of dark green oval flowers and fruits. Ripe fruits have a black color. Unlike some Annonaceae, Ylang-Ylang fruits are not used in food; however, they are quite edible and have the tangy but pleasant aroma of a conifer or juniper. In its natural habitat, the ylang thrives in humid and hot weather. Like many tropical plants, it prefers acidic to neutral soil that is rich in nutrients and plenty of water. It is cultivated for its fragrant flowers - in humid air you will smell them before you see the tree. The picked flowers do not lose their scent for long and can be used in potpourris to scent the house, as well as wardrobe deodorants it also repels moths, in oils, homemade creams and sprays. 1 year old ylang tree 3 year old ylang tree If you live in an area where the winter temperature does not drop below 32 degrees 0 Celsius and the humidity level is above 40 percent the higher the better, you may be successful in growing your own Cananga odorata in the ground. Under the right conditions, it will flower most of the year. It has a less admirable quality - it grows very fast and can be quite aggressive, as other trees and bushes planted nearby can be ruthlessly uprooted by this exotic beauty. My question was about the possibility of growing ylang in cooler climates in a container. Tall and wide Cananga odorata is not the best choice for a pot, although not entirely impossible, but it has fragrant parents with a similar appearance and smell, which can be easily planted in a pot and kept in the courtyard, on the terrace or even in the bedroom. CANANGA ODORATA var. Fruticosa Cananga odorata var. Fruticosa Cananga odorata var. Fruticosa - or Cananga kirkii - is a small tree or bush that grows up to six feet tall and begins to flower when the plant is only one foot tall. The sweet-spicy lemony aroma of the Fruticosa flower is not as strong as that of flowers from full-sized trees, but is intense enough to scent the entire room. Fruticosa flowers have a more graceful shape with the petal tips slightly twisted inside, resembling an octopus. You can easily grow Cananga Fruticosa in a pot 7-15 gallons in the sunniest location of your home. Good drainage is crucial. If you use heating or air conditioning, the humidity level drops dramatically and it can kill your tree. In this case, you need a humidifier. CHINESE DESMOS Desmos chinensis is a spreading shrub that likes shady locations and can become a taller climber if grown in the ground. The flowers open between April and July. Young flowers are green and inconspicuous. They give off a wonderful fruity lemony scent, which can be detected from a distance, especially in the evening. When the flower wilts, the petals turn rusty red and then fall off. Desmos chinensis is ideal for those with limited indoor space, or for those who live in a colder climate, where it would be impossible to grow such a beauty in open ground. This species also lends itself quite well to bonsai training, which will delight the house for many years to come with its beautiful flowers and bewitching aroma. ARTABOTRYS HEXAPETAL Artabotrys hexapetalus is also known by its common name in India as Manorangini and Hara-champa or Kantali champa. A woody climber, it can grow into a dense evergreen shrub bearing extremely fragrant canary yellow or light green flowers that turn yellow with age. An absolutely intoxicating scent at dusk According to toptropicals. com, its scent is more intense than that of Cananga odorata, with undertones of melon and lemon. In a pot or in the ground, Artabotrys can be formed as a round bush up to five to six feet tall, or a climber up to eight feet. Its close relative, Artabotrys siamensis, is native to Thailand. It is a fast growing woody climber, which is also a very attractive plant, but it needs a larger container and support for its branches. It can flower all year round, but the most abundant flowering is from January to March. In Thailand, Artabotrys siamensis is often used for hedges. GONIOTHALAM Here is another fine example of a rare and fragrant plant: the Goniothalamus. In the wild, these plants can be found in a variety of natural environments, from sea level in Bangkok to the mountains of northern Thailand at around 1, 200 meters above sea level, to the humid and almost impenetrable jungles of Cambodia and Vietnam. , in Borneo. Despite this wide range of habitats, it is difficult to find and even more difficult to cultivate. It is difficult, but by no means impossible There are over fifty known varieties of this plant, the most popular of which are Goniothalamus macrophyllus, Goniothalamus laoticus G. marcanii, Goniothalamus giganteus and Goniothalamus carpet, all wonderfully tamed by gardeners. All the members of Goniothalamus are wonderfully scented, and Goniothalamus macrophyllus develops the form of a majestic candlestick reaching a height of 15 feet, with enormous leaves of 5 -20, living up to its title - macrophyllus means to long leaves .
What Fragrance Has an Orange Blossom Scent?

The bitter orange tree's exquisite white blossoms, which have a beautiful orange fragrance, are used in the production of perfume ingredients such as neroli and orange blossom. Orange blossom, with...

The bitter orange tree's exquisite white blossoms, which have a beautiful orange fragrance, are used in the production of perfume ingredients such as neroli and orange blossom. Orange blossom, with...